Tower Family Foundation and Warriors4Wireless Benefit from T-Mobile's 9th Annual Golf Tourney
Tower Family Foundation and Warriors4Wireless Benefit from T-Mobile's 9th Annual Golf Tourney

Veterans, Tower Technicians & Families are Benefactors of a $2 Million Donation Made Possible through Generosity of the Wireless Industry
(Bellevue, Washington) – T-Mobile recently announced a jaw-dropping $2 million distribution to be shared equally by the Tower Family Foundation (TFF) and Warriors4Wireless (W4W) following the 9th Annual T-Mobile Golf Tournament. With more than 50 corporate sponsors supporting the 2022 event, the two industry non-profit benefactor organizations have now received more than $5.2 million from the annual fundraiser.
"The tournament has been successful every year because the sponsors step up to the plate and out-perform the previous year's achievements. This is a testament to the industry – and especially a reflection of the valuable work conducted by the Tower Family Foundation and Warriors4Wireless," said T-Mobile's Chief Procurement Officer Mike Simpson.
The annual tournament results have increased every single year with proceeds going in equal amounts to TFF and W4W, as follows: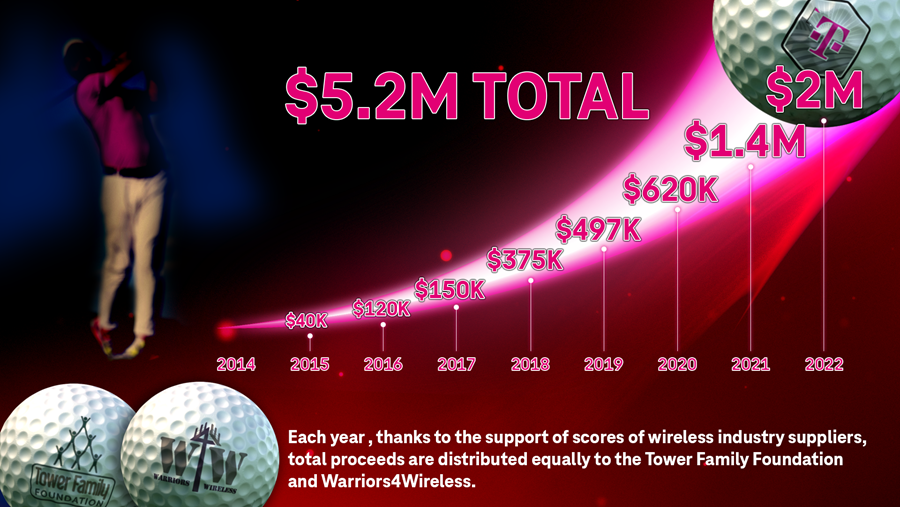 "Through this donation, T-Mobile and the 2022 sponsoring companies continue to raise the bar in their support of the industry's technician workforce and their families," said Tower Family Foundation President Jim Tracy. "This year's contribution is the largest single donation in the history of the Tower Family Foundation and is certainly symbolic of the wireless industry's track record of philanthropy. As a benefactor, the Tower Family Foundation is committed to being great stewards of this contribution as more than 97 cents of every dollar donated goes directly to industry workers and their families during times of need," Tracy added.
"The industry-wide visibility T-Mobile and these tournament sponsors provide year-after-year has helped us grow the annual number of veterans assisted by 400%! This year's effort will mean our support will go to more than 600 veterans," said Warriors4Wireless President, CEO and Coach Kevin Kennedy. "There is no better career tradecraft for a veteran looking for a place in today's workplace"
To learn more, check out the tourney website: T-Mobile Golf Tournament. The 2022 Tournament sponsorship list includes the following:
Accenture
AIMSPlus
AirWavz
Alliance Corporation
Amdocs
Amphenol
American Tower
Betacom
Blue Sky Towers
Boingo Wireless
Branch Communications
CTDI
Cisco
CommScope
Crown Castle
Dell
Delta Electronics
Everstream
GlobalTranz
Goodman Telecom
GPD
HALO
Kearney
KPMG
KGPCo
Makt-Trans
MasTec
MD7

Microsoft
Mobilitie
Nexius
Nokia
NWS Wireless
Ontivity
Oracle
Palistar
Parallel Infrastructure
PwC
Pyramid Network Services
QualTek
RFS World
SBA Communications
Skyway Towers
Smartlink
SureSite
Talon
TSC Wireless Telecom Construction
Tellworks Logistics
TEOCO
Tillman Infrastructure
Tilson
UST
Vertical Bridge
VMware
Zones
Interested stakeholders are encouraged to visit the nonprofits' websites at TowerFamilyFoundation.org and Warriors4Wireless.org to learn more about the benefactor organizations and make an online contribution.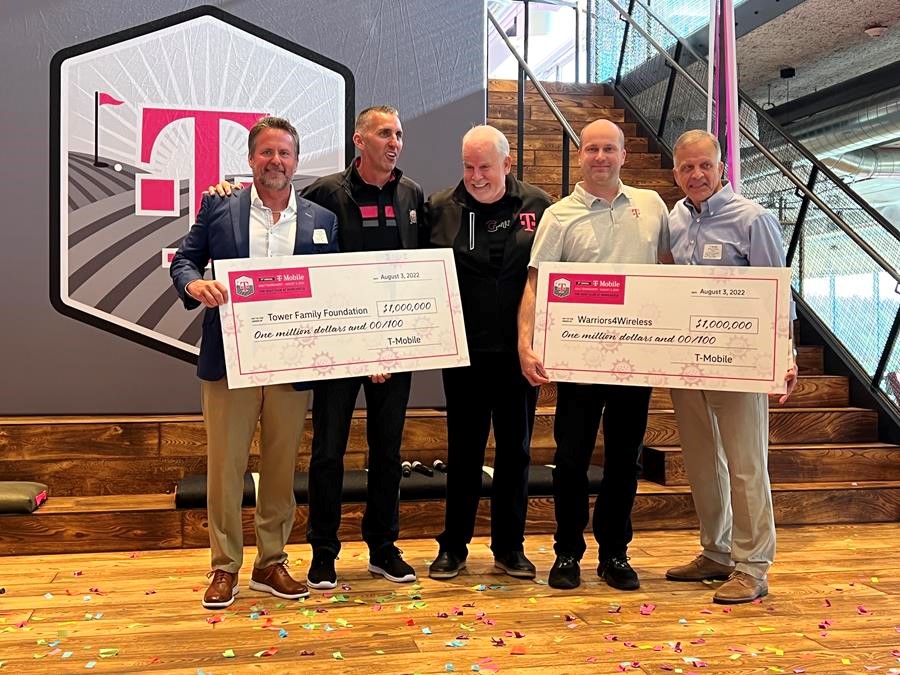 ###
About Tower Family Foundation
The Tower Industry Family Support Charitable Foundation has been established to help provide financial assistance to family members of a severely injured, permanently disabled, or deceased tower worker injured or killed in an accident stemming from working at heights on communication structures or other on-the-job-related activities that tower workers are involved in on a daily basis. The intent of the donation is to provide a funding "bridge" to the affected families to help pay for immediate needs and help defray other related costs that families experience in a post-accident or fatality situation.
About Warriors4Wireless
Warriors4Wireless is a charitable organization existing solely to help veterans find decent paying careers in the growing 5G workforce. We have invested well over $1,000,000 of contributed funds to lower veteran expenses while they train to join this promising career field. We have connected more than 2,700 veterans to 5G workforce career opportunities, and we stand ready to support veterans from all military services.
About T-Mobile
T-Mobile US, Inc. (NASDAQ: TMUS) is America's supercharged Un-carrier, delivering an advanced 4G LTE and transformative nationwide 5G network that will offer reliable connectivity for all. T-Mobile's customers benefit from its unmatched combination of value and quality, unwavering obsession with offering them the best possible service experience and undisputable drive for disruption that creates competition and innovation in wireless and beyond. Based in Bellevue, Wash., T-Mobile provides services through its subsidiaries and operates its flagship brands, T-Mobile, Metro by T-Mobile and Sprint. For more information please visit: https://www.t-mobile.com. ​​​​​​​
Contacts:
Todd Schlekeway / TFF
(605) 882-5865
Kevin Kennedy / W4W
(202) 603-6131   
| | | |
| --- | --- | --- |
| | | |